L. Francis Herreshoff was as much an artist as his father was genius. But nevertheless, when he designed Whirlwind in 1930, his boat was the most interesting of the four Class Js built that year in the United States. L. Francis was born in 1890. The circles in which he grew up naturally led him to naval architecture but he was also a talented writer to whom we owe 'Common Sense of Yachting Design', Herreshoffs biography, among others. He was an eccentric with a singular personality and an excellent yachtsman.
He was reputed for his small yachts and a few larger ones such as Unicorn (1940) and Tioga II rebaptised Ticonderoga. Whirlwind was his biggest yacht. Contrary to the legend, the boat was all his own work - Nat Herreshoff's son did not consult him as he did not get on very well with him. Whirlwind was also in 1933, the biggest of the four American J Classes, built to the limit of the rating. She was a unique boat with her canoe shaped composite hull and pointed stern. L. Francis Herreshoff was always fascinated by double-enders.
Overall he built a J which included all possible innovations - copied subsequently by his competitors. The steering gear (which posed problems), a simple and effective adjustable preventer, two foresails on one stay etc. But the boat just did not work as well as her little sister the M Class Istanela. Good on the run, she was outdistanced when reaching. She was broken up in 1935.
L. Francis continued his career as an architect. He wrote for sailing magazines in which he published drawings, compiled in 'Sensible Cruising Designs'. He died in December 1972 at the age of 82.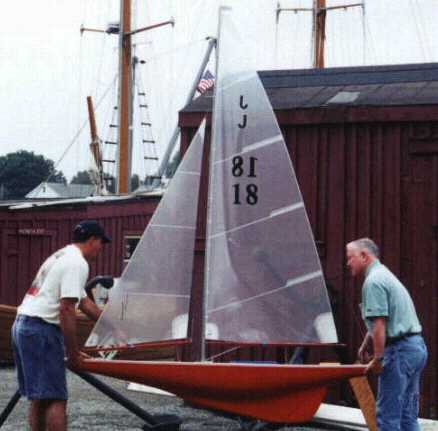 Photo of Dave Brawner's Whirlwind, winner 2000 J-Class NCR. Photo courtesy and Copyright © 2000 Greg Vasileff